Learn about Undergraduate Survey Month and how to promote this to students.
What is Undergraduate Survey Month?
The Undergraduate Survey 2020 is now closed.
At Kent, we run the National Student Survey (NSS) for mainly final years and the Undergraduate Survey (UGS) for all other undergraduate students at the same time.
This is to help raise awareness of both the surveys without bombarding non-eligible students with NSS communications.

By encouraging more students not in their final year to complete the UGS, we receive representative feedback to help us make changes that can directly affect first and second year students' experience. The earlier we get this feedback, the earlier we can make changes to improve their experience while they are still at Kent!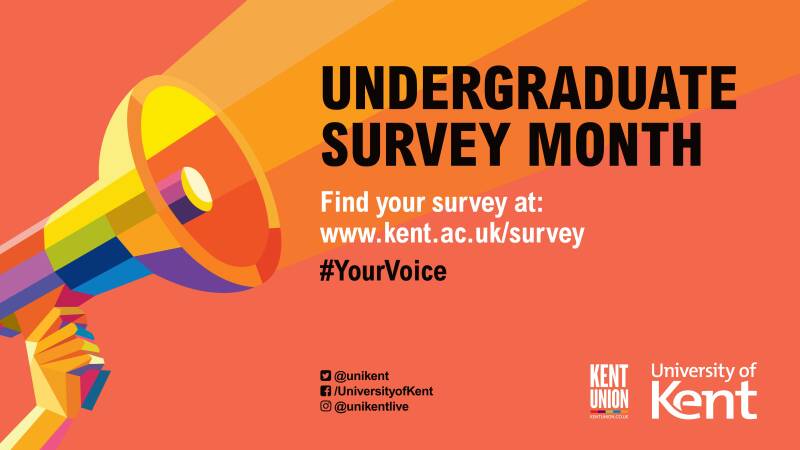 How to promote and online resources
Although both surveys are promoted under Undergraduate Survey Month, specific NSS communications and events must use the standard Ipsos MORI NSS artwork.
Please help promote Undergraduate Survey Month to your undergraduate students this February by:
For specific UGS link- Undergraduate Survey 2020 now closed.
Highlighting the importance of the UGS as well as the NSS. Students will see UGS feedback implemented before they graduate from Kent.
The best practice for promoting the NSS is also relevant for promoting the UGS.

You can find out more about the NSS and download resources and guidance for both campaigns via SharePoint .
Key dates for Undergraduate Survey Month
The University (Planning and Business Information Office) will send out email communications to students eligible for the Undergraduate Survey on the same days as Ipsos MORI sends email communications to students eligible for the NSS.
Wednesday 8 January- Administrative staff workshop
Friday 24 January- Printed and electronic marketing materials circulated by Corporate Communications
Week 15
Monday 27 January- Kent launch (students can complete before this date if they wish)
Thursday 30 January- Initial invitation email from Ipsos MORI
Week 16
Monday 3 February- First reminder email sent from Ipsos MORI
Friday 7 February- Second reminder email sent from Ipsos MORI
Week 17
Thursday 13 February- SMS reminders from Ipsos MORI
Friday 14 February- Telephone phase conducted by Ipsos MORI starts
Week 18
Monday 17 February- Telephone phase conducted by Ipsos MORI continues
Week 20
Friday 1 March- Email and telephone follow ups
Week 25
Thursday 30 April- Deadline for survey completion